Bigger harvests, without pesticides or genetically modified crops (Article)
Sustainable agriculture is no magic bullet for feeding the world. It is an approach rather than a blueprint. Small farms with low yields stand to benefit the most and agribusiness the least.

FOOD NOT LAWNS! Can you dig it!? (Article)
The vast expanse of forever-green American lawn is not only the most resource intensive agricultural crop in the world, but also an obscene icon to our arrogant privilege and total alienation from a life in harmony with nature.
The Natural Way of Farming (Article)
Natural farming is a simple notion really, it embraces the philosophy of, "do as little as possible." It is a realm where Nature is the master gardener and human decision making plays a minor role.
Coppicing (Website)
The art of cutting of trees and shrubs to ground level allowing vigorous regrowth and a sustainable supply of timber for future generations.

Edible Wild Kitchen (Website)
Index of recipes using wild herb and plants. FAQ about processing herb and plants for use in food. References to books and links to on-line sources.

Food Not Lawns (Website)
Avant-gardening collective based in Whiteaker, Eugene's lowest-income neighborhood. Currently, their efforts focus on rebirthing highly-localized food and medicine cultures; and the preservation and propagation of rare plants - and having fun!

Green Belt Southen Europe (Website)
Humans make the desert turn green, creating a green belt in Europe which will stop desertification and recreate fertile soils.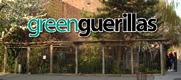 Green Guerillas (Website)
Work with the leaders of New York City's community gardens to help them build communities, foster and support urban agriculture initiatives and create innovative community garden based youth programs.
Permaculture - A Beginner's Guide (Website)
Permaculture offers a radical approach to food production and urban renewal, water, energy and pollution. It integrates ecology, landscape, organic gardening, architecture and agro-forestry in creating a rich and sustainable way of living.
Plants For a Future (Website)
A resource centre for rare and unusual plants, particularly those which have edible, medicinal or other uses. They practice vegan-organic permaculture with emphasis on creating an ecologically sustainable environment using Perennial plants.
Robert Hart's Forest Garden - a tribute (Website)
A small celebration of the Forest Garden at Wenlock Edge, Shropshire on the Welsh Borders, created by Robert Hart, who passed away on the 7th March, 2000.
Seed Ball Pages - Jim Bones Light Writings (Website)
A photographer explains and takes shots of landscapes, wilderness and organic and sustainable agriculture sites. Includes a great section with many photos of Fukuoka's Seed-balls.
Sheet Mulching: Greater Plant and Soil Health for Less Work (Website)
A method for controlling weeds and improving soil and plant health with mulch. The process mimics the litter layer of a forest floor.
Soil And Health Library (Website)
A free public library offering full-texts of books on holistic agriculture, holistic health, longevity, self-sufficient living, and personal development.

Vegan Organic Network (Website)
All about vegan organic horticulture and agriculture; the ecologically friendly way to grow food without using any animal products. Animal free farming will lead to a greener, cleaner, cruelty-free world.

The VidaVerde Seed Collection (Website)
Suppliers of seeds for interesting, rare, and unusual food plants from all over the world.
WWOOF International - Willing Workers On Organic Farms (Website)
Dedicated to helping those who would like to work as volunteers on organic farms internationally.