"Civil disobedience... is not our problem. Our problem is civil obedience. Our problem is that numbers of people all over the world have obeyed the dictates of the leaders of their government and have gone to war, and millions have been killed because of this obedience.. Our problem is that people are obedient all over the world in the face of poverty and starvation and stupidity and war and cruelty. Our problem is that people are obedient while the jails are full of petty thieves, and all the while the grand thieves are running the country. That's our problem."
Howard Zinn, Failure to Quit, p. 45.

FOOD NOT LAWNS! Can you dig it!? (Article)
The vast expanse of forever-green American lawn is not only the most resource intensive agricultural crop in the world, but also an obscene icon to our arrogant privilege and total alienation from a life in harmony with nature.
Veganism is not Enough (Article)
Ultimately what will end animal exploitation - as well as every other type of exploitation and oppression - will be direct action.
Animal Defense League (Website)
An active grassroots organization working to inform the public about animal exploitation and abuse. Through community outreach, networking, legislation, public education, vocal demonstrations, and civil disobedience they speak for those who cannot speak for themselves.
Citizens For Health - The Voice of the Natural Health Consumer (Website)
Grassroots organization committed to protecting and advancing consumer access, choice, information and safety for natural health products and therapies.
Earth Liberation Front - In Defense of All Life (Website)
Up to date uncensored news on the Earth Liberation Front and animal rights movement from around the world.
Food Not Bombs (Website)
Sharing vegetarian food with hungry people and protesting war and poverty throughout the world.

Food Not Lawns (Website)
Avant-gardening collective based in Whiteaker, Eugene's lowest-income neighborhood. Currently, their efforts focus on rebirthing highly-localized food and medicine cultures; and the preservation and propagation of rare plants - and having fun!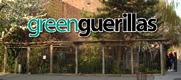 Green Guerillas (Website)
Work with the leaders of New York City's community gardens to help them build communities, foster and support urban agriculture initiatives and create innovative community garden based youth programs.
Independent Media Center (Website)
A collective of independent media organizations and hundreds of journalists offering grassroots, non-corporate coverage. Indymedia is a democratic media outlet for the creation of radical, accurate, and passionate telling of truth.
Label This! (Website)
A practical guide and inspiration for citizens who want to label genetically engineered food. Get informed, find friends, choose a store, check products, get labels, go label, tell the world, inspire others.
Mobilization for Global Justice (Website)
Fighting for justice the world over, shutting down the IMF, World Bank, and the WTO, making the world safe again for democracy...
No Compromise! (Website)
The militant, direct action magazine of grassroots animal liberationists and their supporters - up to date info on jailed activists

Noborder Network (Website)
A european network of anti-racist groups that are working together against exclusion and criminalisation of migrants and for the free movement of everyone.

The Pink Castle (Website)
Once upon a time, in a field not far away, a pink castle appeared by the light of the moon, on one of the two GM sites that besiege Littlemoor in Dorset.

Public Citizen - Founded by Ralph Nader (Website)
Protecting health, safety and democracy.

Reclaim the Streets! (Website)
Ultimately it is in the streets that power must be dissolved: for the streets where daily life is endured, suffered and eroded, and where power is confronted and fought, must be turned into the domain where daily life is enjoyed, created and nourished. Provides links to street-reclaiming around the world.
Responsible Shopper: Your responsible shopping source directory (Website)
Corporate ratings of companies for environmental, labor and social responsibility; services and products produced in a socially and environmentally responsible manner for healthy lifestyles and a clean environment; news and information on boycotts, fair trade, sweatshops and child labor.